NAIOPs Annual Night of the Stars Gala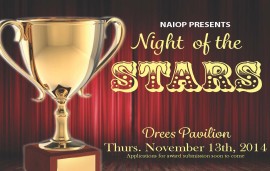 Thursday November 13th, Please Save The Date!!!
The Cincinnati/Northern Kentucky chapter of NAIOP will hosts its most-anticipated Night of the Stars event on Thursday November 13th at The Drees Pavilion in Devou Park. This event recognizes the successful developments, deals, and dealmakers within the Greater Cincinnati commercial real estate industry.
NAIOP will recognize all of this year's award winners and nominees. NAIOP members develop and stimulate our communities, and they help create spaces in which our Cincinnati community lives, works and plays. NAIOP's focus will continue to be on legislative matters that impact the commercial development industry in all areas and will continue to serve in a leading role role supporting the commercial real estate industry through advocasy. If your work plays a role in the commercial real estate industry you are encouraged to join NAIOP and get involved. To nominate a deal or dealmaker for this year's Night of the Stars Awards, contact Natalie at naiopcincinnati@gmail.com or at 513.807.9958
Happy Hour/Networking will begin at 5:30pm
Program and Dinner will start at 7pm
TO REGISTER FOR THIS EVENT please also contact Natalie Gregory naiopcincinnati@gmail.com or 513.807.9958 as entire tables (10 seats) and individuals seats can be purchased, as well as sponsorship opportunities.
Important Update from Drees Pavilion
Temporary Drees Pavilion & Devou Park ( Western Avenue Entrance) Directions
Due to the construction of the new Western Avenue park entrance, we have posted special directions that you may share with your guests for the best route to reach Drees Pavilion from Cincinnati and Kentucky.
From Ohio
Take I-75/I-71 South.
Cross the bridge into Kentucky. While crossing the bridge you need to be in the far right lane.
Take the second exit – 12th Street / Covington (exit 191).
Turn right off the exit and immediately turn right onto Lewis Street
Lewis Street turns into Montague Road as you pass the VFW hall on the left. Follow Montague up the hill until Haven Gillespie, you will pass a Devou Park entrance sign on the right. Turn right on to Haven Gillespie. At the end of Haven Gillespie turn right and then a quick left on Devou Drive.
At the top of the hill continue straight to the Drees Pavilion
From Kentucky
From I-75, take the 12th Street / Covington exit (exit 191)
Continue to Pike Street / Route 127 / 25
Turn left on Pike Street
Take immediate right after you pass underneath interstate onto Lewis Street.
Lewis Street turns into Montague Road as you pass the VFW hall on the left. Follow Montague up the hill until Haven Gillespie, you will pass a Devou Park entrance sign on the right. Turn right on to Haven Gillespie. At the end of Haven Gillespie turn right and then a quick left on Devou Drive.
At the top of the hill continue straight to the Drees Pavilion
If your GPS takes you to the Western Avenue entrance to Devou Park, you will see the recent street closure due to the construction of the new Devou Park entrance. Directions to the Drees Pavilion from this area are as follows:
Travel south on Crescent Avenue ( Willies Sports Bar and Cork N' Bottle will be on your right hand side) Crescent Avenue dead ends into 9th street ( street not marked)
Turn right onto 9th street
At stop sign turn left onto Baker Street
Baker Street dead ends into Lewis Street
Turn right on to Lewis street
Lewis Street turns into Montague Road as you pass the VFW hall on the left. Follow Montague up the hill until Haven Gillespie, you will pass a Devou Park entrance sign on the right. Turn right on to Haven Gillespie. At the end of Haven Gillespie turn right and then a quick left on Devou Drive.
At the top of the hill continue straight to the Drees Pavilion