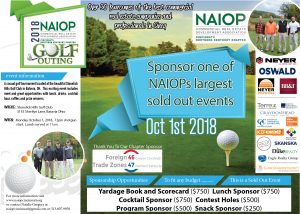 Please arrive at the golf course by 11am, this will give you sufficient time to eat lunch, register, practice, etc. before the shotgun start at 12:15pm.  The day will roughly end around 5:30 – 6:00pm which at this time we will enjoy a happy hour with drinks and appetizers – followed by the contest prizes and raffles being announced and distributed.
The format for the tournament is a four person scramble. Men will play from the blue tees and Women will play from the red tees. Tee marker signs will be in place to mark the tees. The best tee shot is selected and everyone hits from that position after placing their ball within 12 inches (no closer to the hole) of the chosen best ball. This procedure is followed until everyone is on the green.
When on the green, place your ball on the exact spot where the best ball lies. Teams will be limited to a maximum of two putts or a score of a bogey for each hole to speed play. Each participant's tee shot must be used twice throughout the 18 hole round.
We have plenty of games planned for the day and are encouraging players to bring additional cash in order to participate in these events. During registration we will be selling all raffle tickets at $5 each or 5 for $20. Winners need not be present to win. We will accept checks made payable to NAIOP as well as MasterCard, Visa, and Amex for raffle ticket purchases. Each prize will have its own separate gift bag for drawing. Buy as many chances as you want and drop your ticket(s) in the gift bag(s) for the prize(s) you hope to win. We will be selling raffle tickets at the registration table and encourage everyone to buy early. We are also selling Split the Pot tickets at 6 for $10, and Mulligans at $5 each (maximum of 4 per team).