September 25th Uptown and Innovative Corridor Development Update at UC Gardner Neuroscience Institute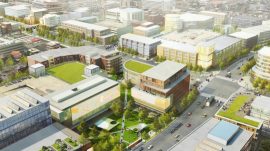 Following Uptown Consortium's role in advancing the interchange development at the intersection of Martin Luther King Drive and I-71, the Uptown Consortium, Inc. initiated a strategic study to plan for the project's transformational impact. This effort produced a vision for the Uptown Innovation Corridor, a mixed-use development supporting Uptown's medical, research and innovation industries.
Start Time:           4pm
Where:                Community Room, Neuroscience Center.  Networking to follow at Mecklenburg Gardens
Format:               Panel discussion of development Uptown and particularly the Innovation Corridor.
Sponsor:              CFBank